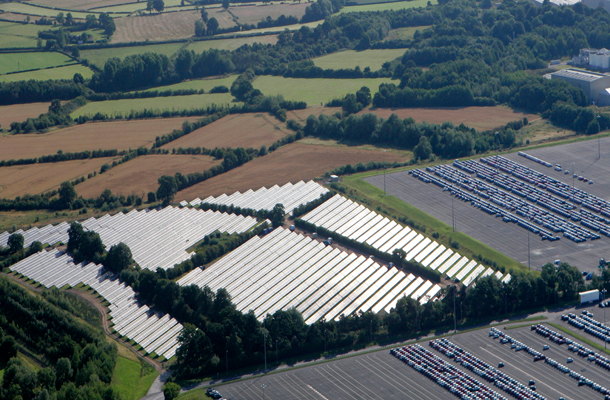 A landmark solar pv farm constructed on the innovative ground screw foundation, has celebrated its first anniversary this summer.  The multi million pound project was undertaken by Krinner UK's ground screw installation partner JPCS, for British Gas New Energy at the Toyota factory in Derbyshire.
Covering 90,000m2 of land, and featuring 17,000 solar panels, the ground mounted solar pv farm was built on 6,000 ground screw foundations and 8.65km of FLEXIII framing. One of the biggest solar farms in the UK manufacturing sector at the time, it was the first large-scale solar array for the UK car industry.
The innovative and exclusive ground screw foundation was critical in achieving the tight deadlines required for this project, in order to beat the changes to Government's Feed-in Tariffs back in August 2011. Using ground screw for this project enabled the works to be completed in just four weeks, using an average of 24 skilled operatives, as opposed to a concrete foundation based project that would have taken approximately 12 weeks to complete.
Steve Helliwell, Director at JPCS said:
"The Derbyshire project was a fantastic achievement for JPCS last summer. We are really proud to have worked alongside clients like British Gas and Toyota and to have been involved in this project, which has led to other pioneering schemes.
Simon Baggaley, Head of Strategic Projects at British Gas Solar said:
"JPCS have supplied and installed ground screw and Krinner frameworks for several of our ground mounted solar PV projects, including the 4.1 MWp PV system at Toyota in Derbyshire. We chose JPCS as our partner for these projects because they demonstrated strong technical knowledge and a sound approach to project planning. During construction JPCS have lived up those expectations, and further delivered for us by providing great lead times, great service and great flexibility in their ability to apply resource.  All the projects we have worked together on so far have been delivered on time, and with the best safety record of all our subcontractors."
This fast forward video shows how the ground screw foundation was used to construct this solar pv farm: