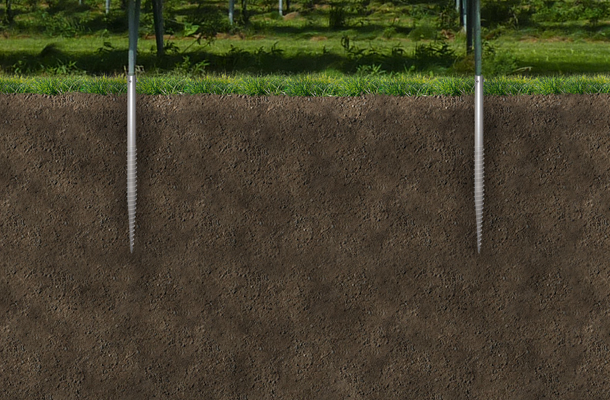 The krinner ground screw foundation provides a quicker, more efficient, and sustainable alternative to concrete foundations.
Benefits of ground screw
Some of the benefits of the krinner ground screw include:
Flexible and efficient: the ground screw can be used as a foundation for a variety of permanent or portable ground mounted applications, from single highway signs, to fencing and large scale solar farms. ƒ The krinner ground screw is suitable for both granular and cohesive soil types. See our ground screw applications page for more information
Unbeatable construction times, with top precision: the ground screw is installed using a number of different aids and machinery. It is driven into the ground at the exact point in a matter of minutes
Concrete-free innovation:  no digging, excavation, wet trades, or curing time, which means no wait, and no delays!
Sustainable, cost-effective alternative to traditional foundations: The krinner ground screw is made from 75-80 per cent recycled steel. Ground screw installation is a low impact, vibration free process, as well as being completely and easily removable. Installation and removal have minimum impact on the landscape
Safe, robust, and uncomplicated: our ground screws have been stringently tested and gained European wide compliance through TUV Reinland and ISO1461 certification
Highways approved in the UK: our ground screw has been approved for use within highways, including passively safe supports and accepted by the Highways Agency for use on motorways and trunk roads. It has also been approved by the German Federal Road & Transport Authorities for the erection of all types of traffic and directional signs
Proven technology in renewable energy: the ground screw foundation has been used for over 10 years across Europe to install over 800MWp of solar PV programmes and supports over 10 per cent of the world market. In the UK, during 2011 and 2012, our ground screw was the chosen foundation for the construction of some of the UK's largest solar farms, as well a large number of other schemes
Long-lasting, with consistent and reliable performance: our ground screw provides a guarantee of 20 years and have been successfully tested to 30 years' lifetime in the ground, with an overall life span of up to 50 years.
So, how does it work? 
This short video explains the process involved in the installation of the ground screw foundations for  ground mounted solar projects, illustrating just some of the benefits of the ground screw:
In practice
For real examples of how the ground screw foundation has been used in a number of projects in the UK, including two of the country's largest ground mounted solar farms, please visit our case study area.