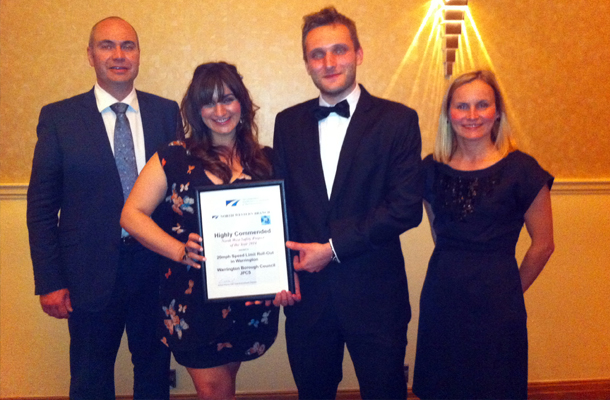 A 20mph speed limit sign rollout in Warrington, which used the innovative krinner ground screw for 50% of the works, has been 'Highly Commended' in the North West Safety Project of the Year category, at the 2014 Chartered Institution of Highways & Transportation (CIHT) North West Branch Awards.
[Pictured L-R: Mark Tune (Warrington Borough Council), Ines Osborne (JPCS), Tom Cowie (Warrington Borough Council), and Jenny Neville, (JPCS)]
The project was delivered by Krinner UK's exclusive installation partner, JPCS, and has already delivered a number of benefits, including 40% cost savings and delivery 6 months ahead of schedule with ground screw. The scheme was earlier shortlisted for 'Best Practice' and 'Safety Project of the Year' at the CIHT awards.
Jenny Neville, director at highway maintenance and civil engineering contractor JPCS, said: "We are delighted that this project has been 'Highly Commended' at this year's North West CIHT awards. A big well done to the teams at Warrington Borough Council and JPCS, who have worked so well together to make the project such a huge success.
"The innovative ground screw concept, the hard work of our talented teams on the ground, and our partnership's pioneering approach to the 20mph speed limit rollout has already delivered benefits to the council and the local community.
"As well as reducing costs by £50k – equating to 40 per cent of estimated costs in phase one alone – using ground screw has enabled the partnership to stay 6 months ahead of schedule, and we now expect all 20mph speed limits to be implemented by the end of 2014."