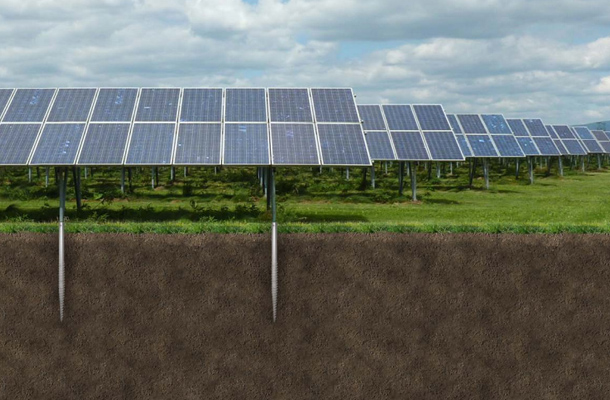 Krinner ground screws have been used for over 10 years to install over 850MWp of solar energy on solar farms worldwide. Along with bespoke framing systems, the ground screw foundation provides the ideal ground engineering solution for ground mounted renewable energy technology.
Krinner ground screws uk have been the engineering solution of choice for some of the UK's largest solar farms over 5MWp, as well as a large number of 50-200KW schemes.
Renewable technology applications
The krinner ground screws can be used for a number of ground mounted renewable energy technology applications, including:
Benefits of the krinner ground screw
The ground screw foundation is an ideal solution for ground mounted renewable energy technology as it provides the following benefits:
Suitable for all terrain including sloping hills and soil types
Significant cost savings through time taken to construct
No digging, no excavation, no waste, no concrete or wet trades
Complete construction and foundation solution (FLEX framing system)
Fast and accurate insertion of ground screw
Statistically tested and certified by independent testing institutions for load, pull and wind load according to stringent guidelines
Quality material, galvanised to ISO1461 (UK and European standard), ensuring  reduced corrosion and improving product life
Easy to install – easy to plan
Sustainable ground engineering – no sealing or covering of surface or negative impact on landscape
Durable and long lasting
Easily removable and reusable.
Ground screw for ground mounted solar projects