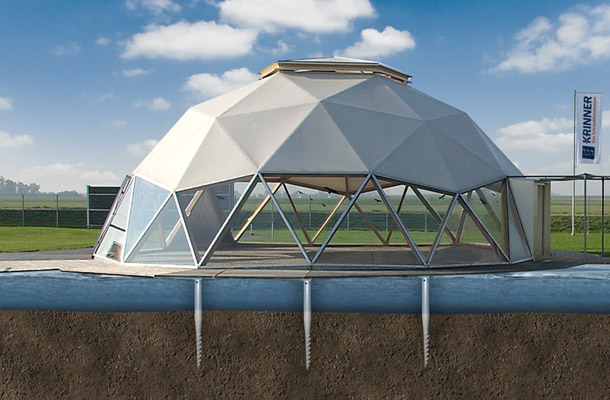 With highly specialist ground screw products, Krinner UK provides ground screw foundations for a range of construction and civil engineering projects, as well as ground mounted systems for renewable energy. The krinner ground screw is a quicker, more efficient, and sustainable alternative to concrete foundations. The ground screw is installed using a number of different screwing aids and machines and is driven into the ground at the exact point in a matter of minutes – no digging, no excavating, no concreting.
The Krinner group of companies was founded in 1990 by Klaus Krinner. With headquarters in Strasskirchen, Bavaria, Germany, it is the market leader in the manufacture of ground screw foundations.
Krinner combines innovative ideas with robust engineering to provide high quality and sustainable ground engineering solutions, such as the krinner ground screws.
The research and development facility at Krinner headquarters is constantly innovating the ground screw products and installation methods to ensure we continually enhance the value, quality and sustainability benefits, as well as ensuring the ground screw product range is being continually extended to meet growing demands and drive down costs.
Facts and figures
With European wide compliance, gained through TUV Reinland and ISO1461 certification, the Krinner ground screws have been stringently tested
Krinner ground screws provide a guarantee of 20 years and have been successfully tested to 30 years' lifetime in the ground
The krinner ground screw has been approved by the German Federal Road & Transport Authorities for the erection of all types of traffic and directional signs. In the UK it has also been approved for use with passively safe supports and accepted by the Highways Agency for use on motorways and trunk roads
Krinner UK have supplied the Krinner ground screws to the construction, highways, rail and energy markets, as well as the commercial market for over 5 years in the UK
Krinner UK are the sole importer and distributer of the krinner ground screws in the UK.
Please contact us on [email protected] or call us on 01948 820696.
Krinner ground screws uk – revolutionising construction and civil engineering in the UK.