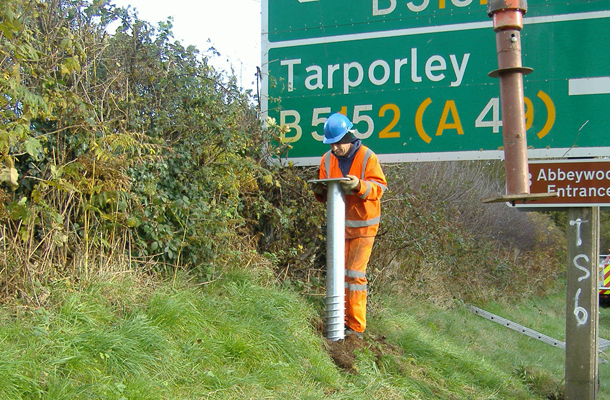 Case Study: Advanced Direction Signs (ADS) replacement using the Krinner ground screw
Background
Essential signs maintenance project: a number of old ADS on steel and concrete posts in the Royal Vale area network required urgent replacement with passive safe Lattix masts.
Scope: Removal and replacement of seven ADS
Client: Cheshire West and Chester Council/Bam Nuttall
Partner: JPCS
Area: A49 and A556 roads in the Vale Royal area, Cheshire
Value: £30,000
Date: December 2011 (seven days)
Challenges
Due to the location of the signs on a busy network, both urgent replacement and the potential disruption caused by the works was one of the main challenges of the project.
Solution
We used the innovative ground screw as the foundation for installing seven new ADS. Ground screw is a robust foundation system and a sustainable alternative to traditional concrete foundations for traffic signs and marker posts. The system removes the need for excavation and concreting, significantly reducing installation time, long term costs and traffic management requirments. The ground screw system is compatible with Lattix masts and other passively safe posts.
Key Benefits
We replaced the seven ADS in seven days instead of the normal three weeks – a third of the time – when compared with traditional concrete foundations, due to the speed in which signage can be erected using ground screw
Each ADS was taken down and the new signs erected in one shift, significantly reducing disruption to road users
Considerable cost saving generated
Reduced traffic management requirements
Reduced environmental impact
Improved safety
Improved client perception.